Easiest Reminders for Gmail
Never miss a follow-up with reminders
Set easy and quick reminders for Gmail when reading or sending emails. Mark important messages back up to the top of your inbox. Use Followup to take messages out of your Gmail inbox until you really need them. At the time you need that email, we'll bring it back to your inbox, marked starred, unread, or even at the top of your message list.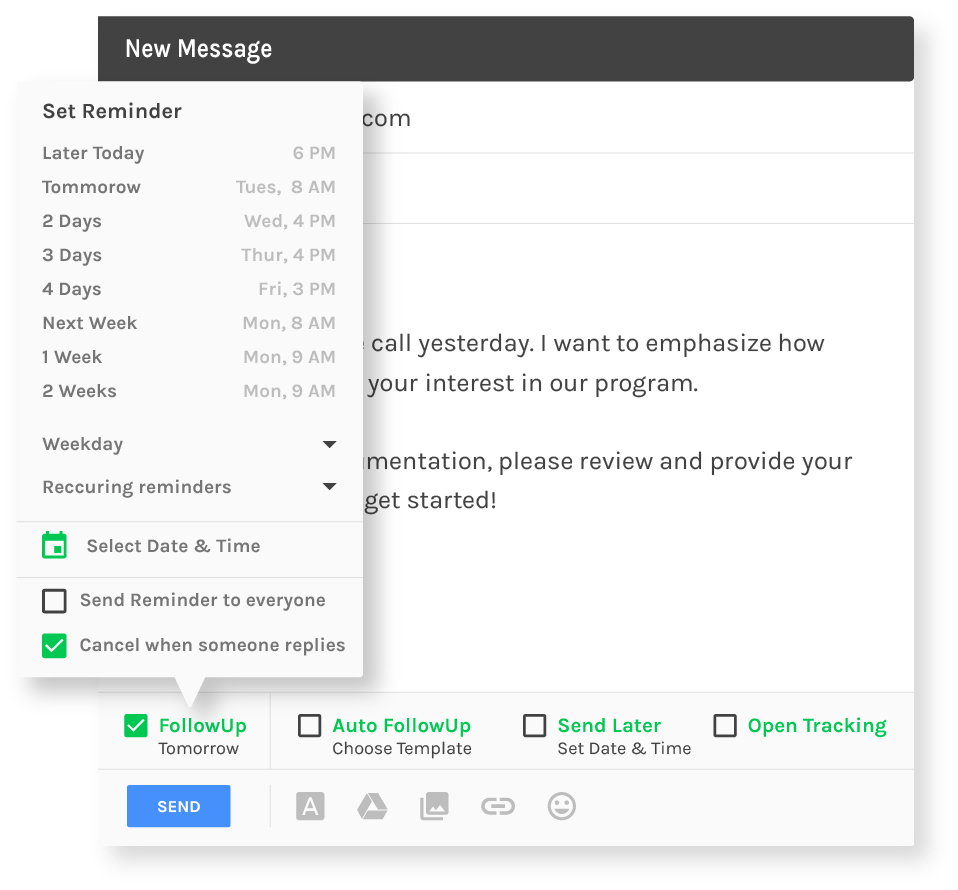 One-Click Reminders Scheduling for Gmail
You can set reminders for Gmail with just a click without leaving your email. Followup's accurate reminder scheduling feature saves you time by eliminating double bookings, back-and-forth emails, missed meetings due to typos, etc.
Schedule Real-Time Meeting
Followup allows you to set automatic reminders to schedule a meeting in a single email.
Share Availability Status
You can share your availability status across domains without giving up your privacy.
Turn Emails into Events
Followup allows you to add any meeting details to your calendar, right from your inbox.
Add a Note to Automatic Reminders for Gmail
The automatic reminders function for Gmail is absolutely useful to remind you about emails that are weeks or months away. But sometimes when these emails return to your inbox, you realize that you had no clue why you wanted these in the first place.
To save you from the trouble, Followup allows you to attach a note to the email when you schedule it. When the email bounces back in your inbox at a specific time, your note will be appended to your email thread.
Frequently Asked Questions