Schedule Emails on Gmail for the Right Time
Schedule your email messages to be sent later
Missed sending and email because you thought you'd send it later? No more! Schedule emails on Gmail to be sent later and never miss an outgoing email again.
Followup not only assists you in scheduling your email messages but also allows you to send recurring emails. For example, if you need to send a regular email reminder for a weekly meeting to your employees every Monday, you can schedule it with Followup in a few easy steps.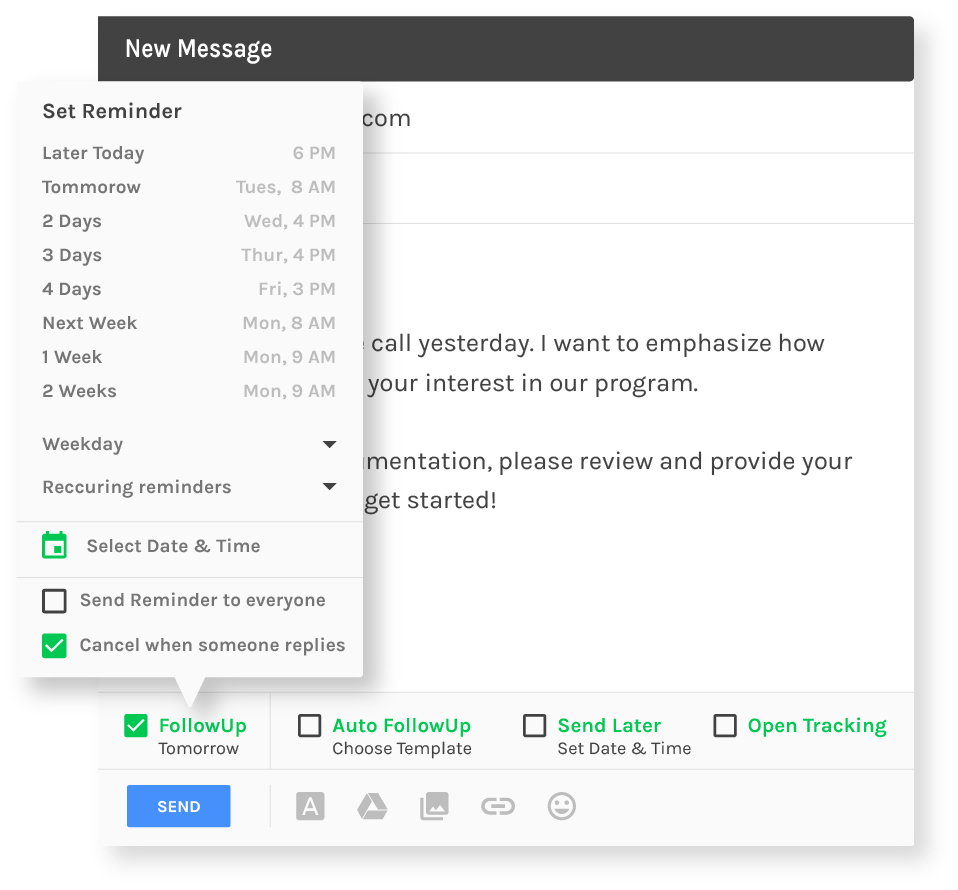 Schedule your Emails on Gmail
Send an Email at a Particular Day and Time
With the Followup Schedule Emails for Gmail feature, you can compose an email message on Gmail now and schedule it to be sent automatically at the time you need.

Simply write the email as you normally would and click the send later button. Select the day and time when you wish to send your email message. We'll take it from there.
Get Constant Automatic Follow-up Reminders
There are certain times when you need to ensure you follow up within a particular time frame after sending an initial email. Followup to the rescue.

Followup allows you to get an automatic reminder if nobody replies. This way you'll never forget to follow up on important emails.
Benefits of Scheduling Emails on Gmail with Followup
● Get to the top of someone's inbox at exactly the right time
● Easy email communication
● Increase your email response rate
● Avoid timezone trouble
● Show thoughtfulness by scheduling recurring emails
● Make your entire outbox more flexible
● Get real-time notifications when your contacts open your emails

Frequently Asked Questions